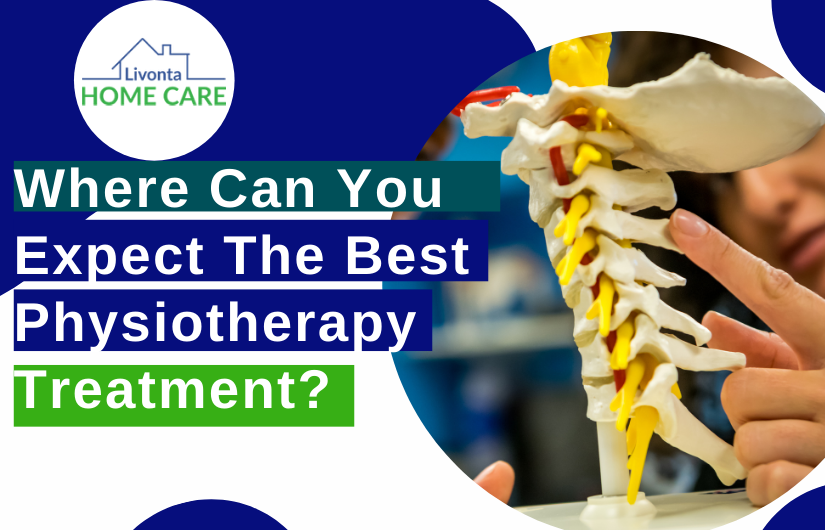 With this evolving lifestyle, people are often facing joint pain, muscle cramp, and other physical dysfunctions. If you are also experiencing the same and want to regain your strength and endurance, you must consult with a professional and deft physiotherapist. Since the demand for physiotherapy treatment is increasing day by day, you may find umpteen clinics in and around your area. Many of them also offer physiotherapy at home services for the convenience of the patients. You need to select a licensed and certified physiotherapist who has adequate knowledge about the modern and latest equipment and the required setup for a treatment.
In this context, you can consult with Livonta Home Care as it offers the best home care physiotherapy services by proficient physiotherapists.
Before employing a home visit physiotherapist, acquire maximum information about the person or in which clinic he/she is associated. You can go through the website and know more about the centre and the professionals.
Don't forget to check the ratings of the clinic and physiotherapist and the patients' feedback. This will help you to understand the proficiency and expertise level of the clinic and the therapist. Make your final decision based on your information.
How to find the best physiotherapist? 
To overcome your prolonged pain or accidental injury, you need to consult with the best physiotherapist from a reputed clinic. An expert therapist will diagnose your body and figure out all your health issues. He/she will enquire about the previous medical conditions and other health-related issues of the family.
Accumulating all this information, the professional can prepare a report and customized treatment plan. 
For post-surgery patients, physiotherapy plays a pivotal role. After a major surgery, the doctor will advise you to take bed rest for some time. You may experience joint pain and muscle cramp while getting bedridden for a long time. To regain the potential of your body, you need to follow regular therapy sessions. Manual therapy or massage, electric stimulation, and acupuncture therapy are the best treatment that will improve flexibility, mobility, and reduce muscle pain.
What all fields Physiotherapy cover? 
Physiotherapy is often recommended for patients who are having orthopaedic, cardiopulmonary, and neurological issues. A tailor-made treatment plan will improve fluid circulation in the body, lessen muscle soreness and joint pain, and inflammation.
You may feel better and improved flexibility and body movement within a few days of treatment. The pain will also subside gradually with the sessions. So, physiotherapy is the utmost treatment for athletes or physically active workers, as they often experience such issues.
But physiotherapy is not the only treatment that will improve your body functioning or decrease the pain. To lead an active and wholesome life, you need to stay flexible and fit. A professional physiotherapist will encourage you to live actively even at old age.
Physiotherapy is not restricted to any gender or age. Ladies, kids, and seniors can go for this treatment and avail the benefits of physiotherapy. 
Consult certified physiotherapist 
Consulting a certified physiotherapist is imperative as they need to go through a lot of training to learn about the anatomy of the human body and also physiology. They have both theoretical knowledge and practical experience.
By identifying your needs and issues, a physiotherapist can offer a customized treatment plan with astonishing results. They can provide individual care and support to each patient.
Physiotherapy treatment can provide astounding results if done properly by the experts. This is the best way to improve your condition after a surgery or a prolonged health issue.
The physiotherapy clinic has a goal to provide the best care possible for every patient seeking relief from chronic illness or injury.
Livonta Home Care offers physiotherapy at home services in Ahmedabad that aim at diminishing pain in most health conditions. Whether it is a chronic disorder or acute illness, we provide customized treatment plans administered by highly qualified experts at the convenience of a patient's home. At Livonta Home Care, we have a team of sagacious and skilled physiotherapists who will treat you with the best holistic approach within the four walls of your home. Our therapists will help you in reinstating your strength and help you to lead a wholesome life.
If you are looking for the best home visit physiotherapist for your pain and muscle cramp, then you must get in touch with Livonta Home Care. By visiting the website of Livonta Home Care, you will acquire more information about the company.
Home Health Care
Tags: physiotherapist, physiotherapy at home, Physiotherapy Treatment
FREE Quote Now
We will contact you within 24 hrs.
RECENT POSTS
Blog Categories